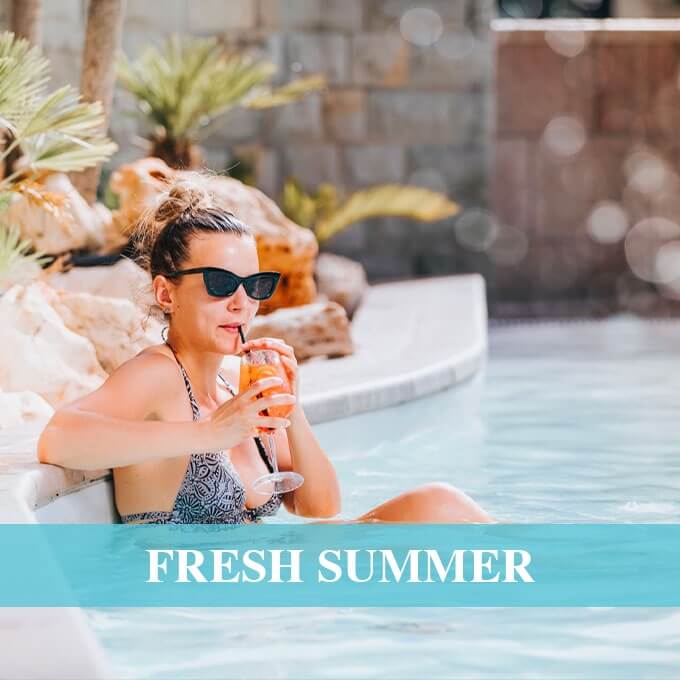 Looking for a different summer, away from crowded beaches and high prices? Experience a truly refreshing summer with us! Enjoy our Fresh offer with a dip in our healing waters surrounded by green nature and an included relaxing massage.
The offer includes:
- 2 nights in a Classic room
- Half board (breakfast and dinner - buffet service - including water and house wine)
- Relaxation area
- Free Wi-Fi in the room and public areas
- Bathrobe (for adults only)
- Satellite TV with Sky
- Access to the fitness center with Technogym equipment
- Large unguarded parking lot
- Access to the thermal pool from 2:00 PM on the day of arrival until 2:00 PM on the day of departure
- 1 relaxing massage of 25 minutes per person
The word "massage" generally derives from the Greek word "massein," which means "to knead-handle." However, other authors attribute it to the Arabic word "mass," which means "to lightly press," or to the Hebrew root "machech," which means "to touch." Regardless of etymology and considering the most accurate meaning, it can be said that it is a complex manipulation of body parts or the entire body to achieve specific direct or reflex effects, with sporting, hygienic, and therapeutic intentions.
From € 189.00 per person
Supplements per person per day:
Single room € 25.00
Superior room € 10.00
Executive room € 20.00
Superior Family room € 20.00
Family Suite room € 30.00
Children in the room with two adults:
0-3 years old - free of charge
4-9 years old - 50% discount
10-12 years old - 25% discount
Third bed - 10% discount
Additional meals: € 26.00 per person per meal - buffet service (drinks included - water and house wine) - can also be booked on-site. After the expiration of the amendment and cancellation deadlines, it is not possible to change a booked bed and breakfast option to another half or full board option. In this case, meals must be added at the price of € 26.00 per person per meal. Children from 0-3 years old are free of charge. Children from 4-9 years old € 15.00 per person per meal.

Treatment booking: Availability of treatments on-site is not guaranteed and is subject to existing bookings. We recommend booking treatments as early as possible in advance by sending an email to terme@euroterme.com. > Click here to browse the online brochure of treatments <
Validity periods: Offer valid for 2-5 nights, including Sunday to Thursday, from July 2nd to September 28th, 2023.
Important information: The offer is subject to limited availability and cannot be combined with other promotions, discounts, or agreements. Rooms are limited. The offer is not commissionable.
Check-in on the day of arrival: 2:00 PM (access to the thermal pool is only available after this time and during the booked time). Check-out on the day of departure: Until 11:00 AM. For access to the thermal pool, we recommend bringing plastic slippers, a fabric swimming cap, and a padlock. The hotel call center is open from Monday to Friday from 9:00 AM to 9:00 PM. Saturday and Sunday from 9:00 AM to 5:00 PM - 0543.911414 - Extension 1. The treatment booking office call center is open daily from 9:00 AM to 1:00 PM and from 2:00 PM to 6:00 PM - 0543.911414 - Extension 3