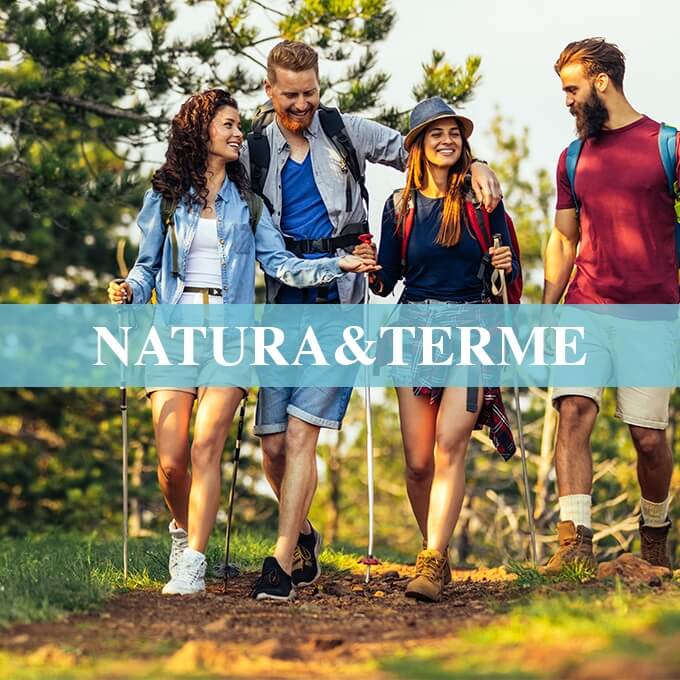 An exclusive offer that combines a nature hike and moments of pampering with spa access and an included massage.
The rate includes:
- Executive room type
- Half board treatment with buffet service, including water and house wine in bottles
- Relaxation rooms with herbal teas
- Free Wi-Fi in the room and common areas
- Bathrobe (adults only)
- Satellite TV with Sky
- Access to the thermal pool from 2:00 PM on the day of arrival until 2:00 PM on the day of departure
- Ample non-guarded parking
- 1 relaxing or draining massage for 55 minutes
- Daily access to the spa thermal paths
including: thermal cave, sauna, emotional showers, ice bath, Kneipp path, and relaxation room with Himalayan salt wall
- Guided excursion to Nasseto along the Via Romea Germanica with Pierluigi Ricci from Esploramontagne. The excursion is scheduled for Saturday at 9:00 AM
Total € 554.00
Additional meals: € 26.00 per person, per meal - buffet service (including drinks - water and house wine) - also bookable on-site. After the expiration of the modification and cancellation terms, it will not be possible to change a booked bed and breakfast offer with any other half or full board offer, and it will therefore be necessary to add meals at a price of € 26.00 per person, per meal. Children 0-3 years old free. Children 4-9 years old € 15.00 per person, per meal.
Treatment reservations: The availability of treatments on-site is never guaranteed and is subject to existing reservations. We recommend booking treatments as far in advance as possible by sending an email to terme@euroterme.com. > click here to browse the online treatment brochure <
Validity periods: Offer valid for NM.2 nights for 5 weekends.
June: from 23 to 25
July: from 7 to 9
August: from 25 to 27
September: from 22 to 24
October: from 13 to 15

Important Information: The offer is subject to limited availability, cannot be combined with other promotions, discounts, or conventions. Rooms are subject to availability. The offer is non-commissionable.
Check-in time on the day of arrival: 2:00 PM (access to the pool will only be possible after this time and during the booked hours). Check-out time on the day of departure: by 11:00 AM. For access to the thermal pool, we recommend bringing plastic slippers, a fabric cap, and a padlock from home. The hotel call center is open from Monday to Friday from 9:00 AM to 9:00 PM. Saturday and Sunday from 9:00 AM to 5:00 PM - 0543.911414 - press 1. The treatment reservation call center is open every day from 9:00 AM to 1:00 PM and from 2:00 PM to 6:00 PM - 0543.911414 - press 3.