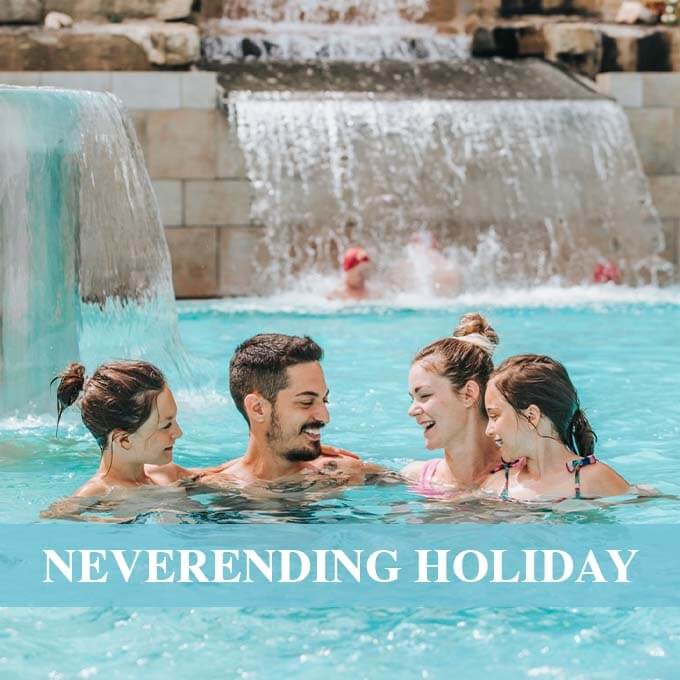 Start relaxing for real! Pause the routine and come relax with us: nature, wellness, and unforgettable experiences await you at Euroterme. Enjoy a 6-night stay, and we'll give you 1 night for free! You don't have to worry about anything; you just need to start your vacation.
Stay starting from 6 nights (every 6 nights, 1 is free!) in a double/twin Superior room, including:
- Half-board treatment (breakfast and dinner - buffet service) with water and wine during meals
- Access to the indoor/outdoor thermal pool with hydromassages and water jets
- Free medical consultation
- Relaxation room
- Satellite TV with Sky
- Free Wi-Fi in the room and common areas
- Bathrobe (for adults only)
- Access to the gym with Technogym equipment
Starting from EUR 497.50 per person (price for 6 nights)
Additional charges per person, per day:
Family Superior Room € 10.00
Executive Room € 10.00
Family Suite € 20.00
Single supplement € 25.00

Child in a room with 2 adults:
0 to 3 years old FREE
4 to 9 years old 50% discount
10 to 12 years old 25% discount
3rd/4th adult bed 10% discount
Additional meals: € 26.00 per person, per meal - buffet service (drinks included - water and house wine) - can also be booked on-site. After the deadline for changes and cancellations, it will not be possible to change a booked B&B offer to any other half-board or full-board offer, and meals must be added at a price of € 26.00 per person, per meal. Children 0-3 years old are free. Children 4-9 years old € 15.00 per person, per meal.
Treatment reservations: The availability of treatments on-site is never guaranteed and is subject to existing reservations. We recommend booking treatments as far in advance as possible by sending an email to terme@euroterme.com.

Click here to browse the treatment brochure

Validity periods: offer valid until 12/06/23. Excluded periods: not valid from October 29th to November 3rd inclusive. Minimum nights required: 6 nights.
Booking conditions: 30% advance payment is required at the time of booking. Non-refundable.

Important Information: The offer is subject to limited availability, not combinable with other promotions, discounts, or conventions. Rooms are subject to availability. Offer is non-commissionable.
Check-In time on arrival day: 14:00 (access to the thermal pool will only be possible after this time and during the time you have booked) Check-Out time on departure day: By 11:00 AM. For access to the thermal pool, we recommend bringing plastic slippers, a cloth cap, and a lock from home. The hotel call center is open from Monday to Friday from 9:00 AM to 9:00 PM. Saturday and Sunday from 9:00 AM to 5:00 PM - 0543.911414 - option 1. The treatment reservation office call center is open every day from 9:00 AM to 1:00 PM and from 2:00 PM to 6:00 PM - 0543.911414 - option 3.